Custom Power Conversion Solutions
Unparalleled Efficiency & Performance
Marotta's award-winning, patented power supply and power conversion technologies are customized to meet the challenging requirements of commercial and military platforms. Our dedicated and highly experienced electronics engineers design solutions that optimize the system envelop and provide our customers with a smaller, lighter and economical solution.
Missile Avionics
Launcher Weapons Interface
Bomb Rack Weapons Interface
Control Actuation Systems
UAV Guidance and Control
Radar Systems
Electronic Warfare Systems
Shipboard Electronics
Commercial Aircraft
Military Aircraft
AC/DC Converters
DC/DC Converters
COTS & MOTS
Seconday SSPC Power Distribution
Miniturized Power Distribution
Integrated Converter/SPDU Packages
500 W to 11.2 kW Modules
Starter Generator Control Inverters
1-STEP AC-DC Conversion
Flyback
2-Switch Forward
Buck, Tapped Buck
Interleaved Modules
ZVS Phase Shifted Bridge
Buck & Boost
Passive & Active PFC
Synchronous Rectification
Inrush Control
Softstart Control
Silicon Carbide MOSFETs
GaN FETs
IGBTs
Silicon MOSFETs
Amorphous Magnetics
In-house Magnetics Design including Nanocrystaline Materials
High Performance Film & Electrolytic Capacitors
Rugged Sheet Metal
Thin Wall Enclosures
Rigid & Rigidflex Circuit Card Assemblies
Design Advantages
EMI/EMC Mitigration
Silicon Carbide & GaN Design
Output Current Overload Capability
CanBus, RS422, Ethernet, 1553
Built-in-Test
Over/Under Voltage Protection
Output Current Limiting
Rigid & Rigidflex PWB
High Efficiency: 92% – 98%
Conduction, convection
Forced air & liquid cooling
Over Temperature Protection
Short Circuit Protection
Status Telemetry
High Temperature Protection
MCU & FPGA Digital Controls
DO-160 & MIL-STD Requirements
Safety Lockouts
SBC/Linux/G-Enet/SNNMP/ MIB Secure Controls
Multi-Output DC/DC Converter
Compact, single board design
Variety of circuit topologies
Tri-converter regulated outputs
Over & under voltage input protections
---
3-Phase AC/DC Converter
Compact design
Conversion from 3-phase power to 135 VDC
Two 28 VDC power conditioners
Conduction cooled
14W/cubic inch power density
>92% efficiency
3-Phase AC to 28 VDC Converter
3-phase 400 Hz, 115VAC input
90% efficiency
Passive PFC, near unit PF above 50% load
Operation up to 195° F
28VDC 1350W steady state
ZVS phase shifted full bridge isolated DC/DC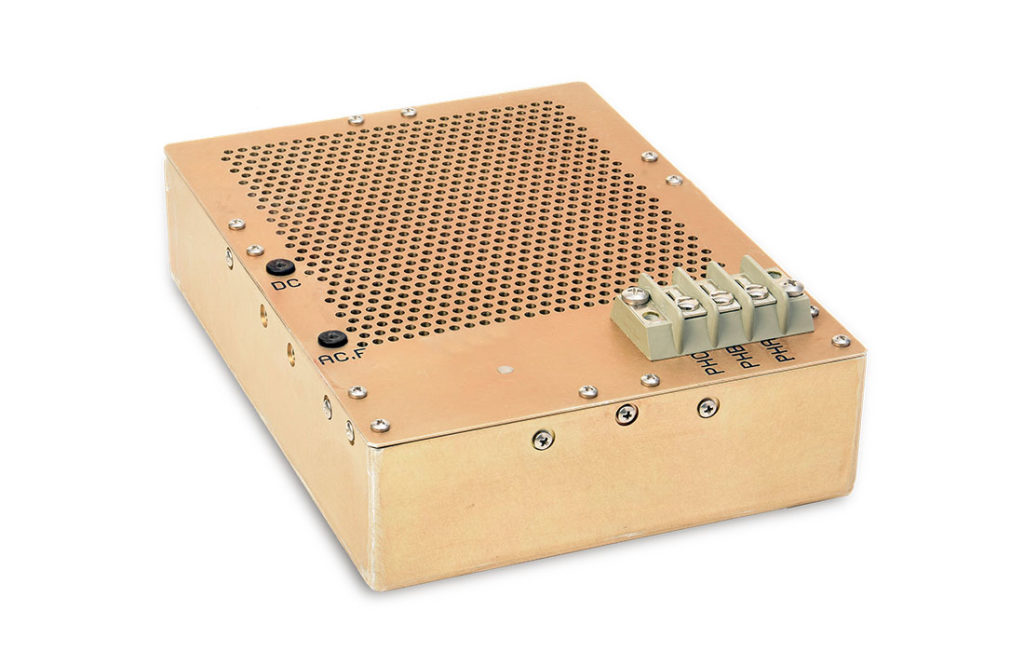 1-STEP AC-DC Power Conversion
Our patented 1-STEP technology is revolutionizing power conversion with an innovative circuit solution that uniquely achieves 3-phase active power factor correction, power regulation and electrical isolation in a single conversion step .
Near unity power factor
<2% total harmonic distortion
Modular design
18 Output Power Distribution
18 current limited power outputs
Single integrated rigid flex assembly
28V & 270V or +/- 135VDC inputs
< 2 lbs
Conversion, distribution & control in one unit
MIL-STD-1760 power interrupt hold up capacitor
Compact Power Distribution
Switchable 28V power from 28VDC
Digital control by vehicle computer
Compact, low weight
Built-in-Test provides system status
Flexible digital serial link type
Up to 180° F (82° C) operating temperature