Submersible Flow Control
The MV286A Series submersible solenoid valves were developed to provide reliable control for air conditioning chilled water systems. This innovative design features a durable one-piece polypropylene poppet which provides improved performance, long-term reliability and ease of maintenance. A manual override is provided in case of a power failure or for manual operation.
Fuel Oil Service
Pneumatic Service
Turbine Bleed Air Controls
Propulsion Systems
Flask Isolation
Fire Suppression Systems
Power Generation Systems
Maneuverability Controls
MV286
Chilled water solenoid valves meet the requirements of MIL-R-16743. They are supplied with the MIL-F-1183 bronze silver-brazed union ends. These are also available with copper nickel union ends for quick installation, or other materials of your choice. Units are also suitable for hydraulic and pneumatic fluids as well as light oils operating up to 400 psig.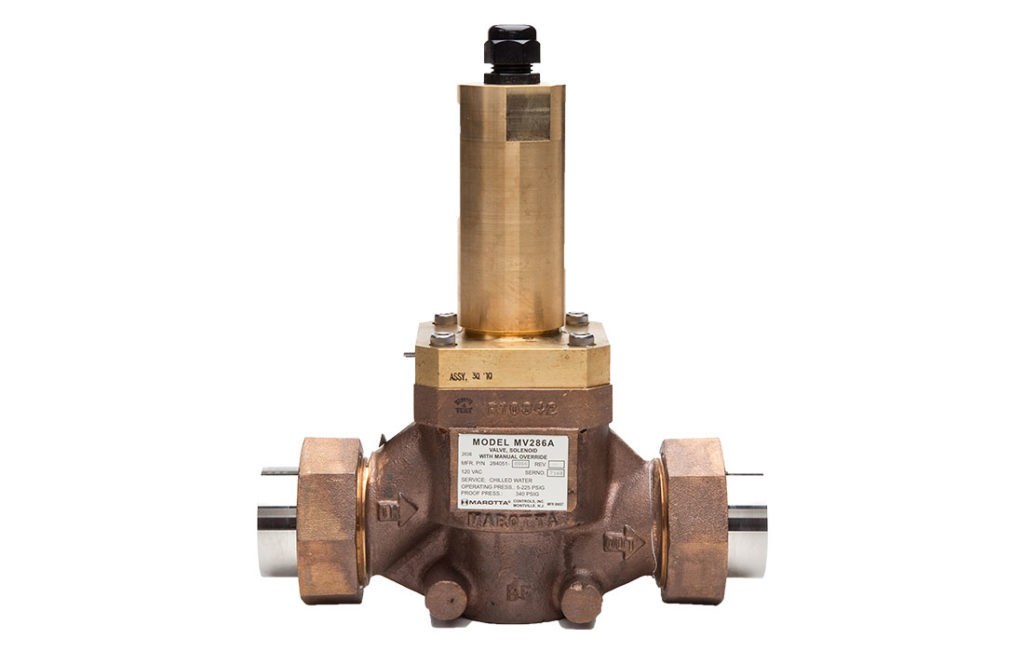 Splashproof & Submersible
Marotta has engineered a solution to prevent water intrusion into the solenoid. This new technology meets the requirements of MIL-STD-108E for splash-proof and for submersible applications.
Sizes available from 3/8″ to 2″, 2-way normally closed/normally open
Polypropylene poppet for long life and bubble tight sealing
Meets MIL-S-901 shock and MIL-167 vibration requirements
Operates with pressure differentials as low as 3 psid
Can withstand differential pressure across the poppet as high as 400 psig
Available with Intelligent Fluid Control Electronics for distributed system control