MPACT Pneumatic Ejection
High Pressure Release System for Single and Multi-Station Bomb Racks and Launchers
The MPACT® airborne high-pressure pneumatic weapon ejection/release system provides a continuous source of high-pressure pure air for accurate weapon separation, every time. Compact, clean and lightweight, these systems can be installed in the bomb rack, weapons bay or wing pylons.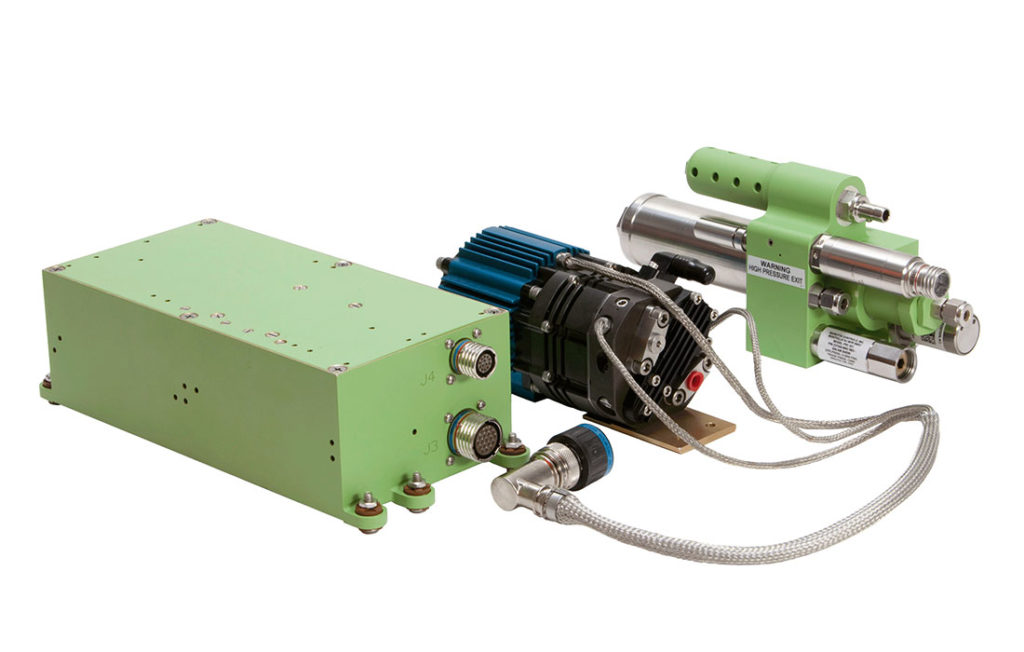 Four stage single or double micro-compressor
Operating pressure: 5880 psig
Flow rate: 6-7 SLPM to 12-14 SLPM
Motor drive output to 800W, 1200W peak, sensorless
Extensive BIT and reporting
Digital CANBus
Three phase, 400 HZ, 115 VAC
Qualified software
System power consumption up to 500 to 800 VA
Meets EMI and harmonic suppression requirements
Cost efficient and reusable, there's no need to replace squibs after each mission.
Clean air powers the rack, eliminating pyrotechnic residue and the need for cleaning
Reduces logistics by eliminating the need to acquire and store pyrotechnics
Higher ejection force allows release of stores at higher speeds
Pneumatic power provides consistent shot-to-shot ejection profiles
Continuous supply of high pressure pure air, ensuring combat readiness
Protect your bomb & ejector racks
M-PACT® uses clean, dry air as its energy source to eject munitions. Since the bomb/ejector rack is not fouled by hot gasses and explosive residue, the racks return from the mission in excellent condition.
Fast response time and reliability
The MPACT® pneumatic ejection system is always ready to fire with millisecond operation, high ejection velocities, and consistent shot-to-shot ejection profiles.
Multiple configurations and retrofits
MPACT® is designed for easy integration into next-generation single or multiple pneumatic bomb/ejector racks. MPACT® can also be retrofitted to convert legacy pyrotechnic racks to pneumatic capabilities.
Why Choose Marotta?
We have earned a reputation for quality in some of the world's most demanding and mission-critical industries. Our control systems expertise has made us a trusted partner for manufacturers serving the aerospace, military and marine sectors. Since 1943, we have provided innovation, precision and quality in everything we do. We're dedicated to ensuring the success of our customers' technology no matter what the conditions or applications, with world-class support and a diverse product portfolio. We never rest when it comes to developing the most forward-thinking designs found anywhere in the marketplace. If you want to learn more about our capabilities and how they can be put to good use in your offerings, reach out and speak with one of our helpful representatives today.