ASCEND presentation highlights Marotta report findings, offers guidance on effective design trades
MONTVILLE, N.J.—October 17, 2023 —Marotta Controls, a rapidly growing aerospace and defense supplier, today announced the publication of its latest trade study. The "Analytical Trade Study on Pressure Reducing Systems for Aerospace Applications" report compares five pressure regulation designs in four primary system-level configurations and shares parameters for determining which type of pressure regulation system is most suitable for a particular design. These pneumatic solutions are typically found in propulsion systems, launch vehicles, satellites, and ground-support equipment – all vital to mission capabilities. Marotta experts will present study findings at ASCEND 2023 in Las Vegas on Tuesday, Oct. 24 at 5:50 pm (Technical Session 4733).
"Even the most experienced system-level engineers may not recognize the broad impact of their pressure regulation design choices. They often stick with solutions that have worked in the past, regardless of whether that technology is right for the new design. This design practice doesn't always consider the big picture and can introduce unintended performance characteristics and undesired consequences," said Keith Brodek, manager of analysis engineering, Marotta Controls. "Our study illustrates the potential pitfalls of oversimplifying pressure regulation selection and highlights the interplay between system components. By making strategic design trades, system integrators can protect reliability, cost, weight, and other considerations foundational to mission-critical systems."
For the purposes of this study, the Marotta engineering team developed an algorithm that enables quick-turn analysis, simulating pressure regulation response based on the application's requirements. To further streamline system-level considerations, the team studied the capabilities of several pneumatic solutions in relation to common system-level application requirements. Results showed that while no single solution fits all system-level designs, early collaboration between system engineers and component manufacturers allows designers to tap into a deeper level of experience that can guide the most beneficial design trade.
Download Marotta's "Analytical Trade Study on Pressure Reducing Systems for Aerospace Applications " white paper here: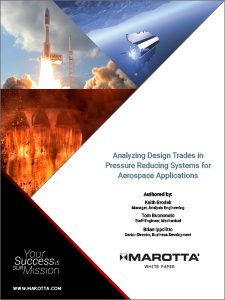 Download White Paper
Fill out the form below to download Analyzing Design Trades in Pressure Reducing Systems for Aerospace Applications